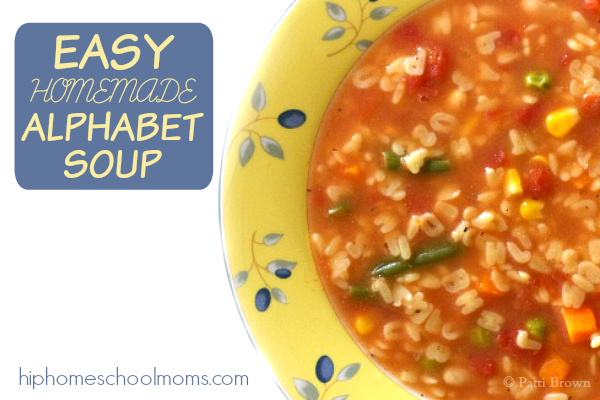 It is actually chilly here in Texas right now (that does happen occasionally!) and I am drinking nothing but hot tea. I have been craving soup too… nice steamy bowls of soup.
A few years ago I created a simple recipe for Alphabet Soup for our friends at Build A Menu. I wanted my kids to be able to easily whip up a pot without much help. The weather is telling me it is time to get them in the kitchen cooking soup again!
Alphabet soup combines pasta, beans and vegetables in a chicken stock base. It's an easy way to get more veggies in the kids (does anyone else notice that children are more likely to eat healthy foods they make themselves?)
The alphabet pasta makes the soup extra fun! Can you find your name in your bowl? Can you make a whole sentence?
Find our full kid-friendly recipe for Alphabet Soup in our guest post for Hip Homeschool Moms.
How about you? Is it cold where you are? Do you find yourself turning to hot liquids to warm up?
Keep warm y'all!