We're so glad you stopped by Blossoms and Posies!
Are you a girl who loves to craft or cook? Maybe you're a mom who wants to teach her daughter home skills but is starting from scratch herself? Or perhaps you just like homey things!
Many girls today do not learn the basic skills that will help them to bloom at home. They don't learn these skills because their mothers don't know them! We want to help girls and their moms learn the basics, and have fun experimenting.
Because we were made in the image of our creator God, we each were also made to create! And our homes are filled with opportunities for us to create beauty and bless others.
~~~~~~~~~~~~~~~~~~
Who Are the Faces Behind the Pictures?
We are a mother and daughter who love our home made life!
We started Blossoms and Posies for two reasons:
We enjoy making beautiful things, whether they be knitted, sewn or edible! Doing projects for Blossoms and Posies together is a great way for us to grow closer, and even learn new things.
We both have a passion for encouraging girls in the home arts. So many girls today don't know the basics of a home made life. It is understandable, as their mothers don't either! These skills are less and less a part of our fast-paced, fast-food culture.
Through Blossoms and Posies we share what we know,  have fun together, and encourage girls and their mothers to embrace a home made life!
~~~~~~~~~~~~~~~~~~
Abbie
Abbie is our girl-in-residence. In most of our photos it is Abbie you will see hard at work demonstrating the project.
Abbie says…
Hello! I'm Abbie, and I would like to tell you some things about myself and this website. First of all, I'm eleven, and we just started this website. What I want in this website is to show people like you how to have fun doing crafts. I love to act, write, and sing. I am a Christian; I firmly believe that Jesus Christ is the son of God. I belong to a family of five: my kind mother and loving father, my 15-year-old brother Caeleb, my 6-year-old brother Joshua, and me!
Here are a few things I'd like to tell you about myself!
I am extremely right brained, that's why I love to do crafts.
I live on a farm, and I have three sweet kitties that I like to play with.
My mom taught me how to knit when I was six and I was entirely uninterested, then a few years later I tried it again, and loved it!
I like reading so much that sometimes I will go for a whole day without doing much else.
My dad is a musician and can play almost any instrument at all: the flute, the guitar, the piano, the cello and violin, and a lot of other things too — even the didgeridoo! He taught me to play the piano and the harp.
My Grandpa is a scientist; he is well known in his field (atmospheric and oceanographic chemistry). I must have his genes, because I am fascinated with meteorology!
Caeleb and I love bananas, but they have to be PERFECTLY ripe!
The walls of my room are painted light pink, the trim is mint green, and the door is baby blue – my favorite colors.
When my little brother was a toddler, he loved construction workers and their big machines. He called bulldozers "baowbaows"!
My parents come from Rhode Island, and I really like it there.
~~~~~~~~~~~~~~~~~~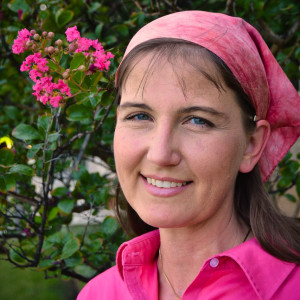 Mrs. Brown
Mrs. Brown (Patti to her friends) is the always-learning mother. She is the face behind the camera and the head project wrangler.

Mrs. Brown takes a turn…
My life revolves around our home and family, but it didn't always. Most of the home and craft skills I have, I learned as an adult. I wanted to learn for my own sake, but as my daughter grew I realized I wanted to be able to teach her as well, so that she could enter her own home as an adult with a solid repertoire of home making skills.
Taking a cue from Abbie, here are a few random facts about me:
I grew up in chilly New England by the beach, but have lived most of my adult life in hot Central Texas.
It took me seven years from first learning to knit until I considered myself a knitter (I was distracted with babies!) One day I decided I was not going to give up, and I never looked back.
I was a vegetarian for eleven years. Four years after I started eating meat again, we moved to our homestead and began raising cattle and chickens for eating. This transition was an emotional one for me!
To say our efforts at homesteading have been amusing would be an understatement. The number one most important thing to have when you try to live off the land is a sense of humor!
At heart I am a writer. I blog at Joyful Mama, and am a contributing writer to Do Not Depart, Hello Mornings and Build A Menu. I write while I cook, while I knit, while I drive, while I shower… any time I am silent. At best 5% of it actually gets on paper or screen.
I am sold out for Jesus. When things seemed hopeless, joy found me because of Him. The discipline of studying the Word of God has had a more profound effect on my life than any other endeavor I have undertaken.
I have come to understand that if what I do does not glorify God, it is not worth doing, no matter how much it impresses people. Making a simple beautiful meal can glorify God. Getting up daily and serving your family when you are tired can glorify God. Doing little things that no one ever sees can glorify God. I try to keep this perspective, especially when the work seems endless and the jobs thankless.
I love to be surrounded by beauty. To me beauty is found in the twinkling eyes of the people I love, the smell of my children's hair, the feel of a soft breeze kissing my cheek, the wild colors of a setting sun, a plate of fresh fruit. I am constantly amazed by how God's creations are already far more beautiful than anything I can make. Yet it brings me much joy to create with my own hands. That is part of being a child of God, made in His image.