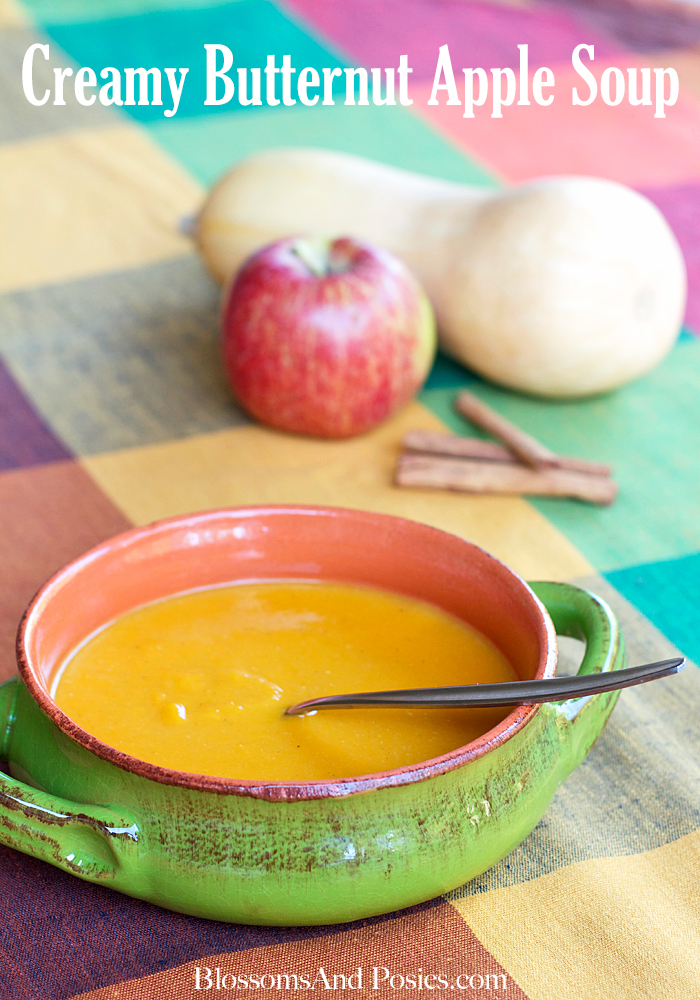 We discovered a new favorite soup this winter. And I found a new way to get my family to eat squash! Woohoo!
The awesome convergence of my friend's over-producing garden (she gave me a whole box of butternut squash!) plus a great sale on organic apples led to this happy discovery.
At first it seemed a bit odd. Apples in soup? I knew I was going to have to keep this ingredient on the low down until everyone tried the soup. Sometimes our brains get in the way of our taste buds, you know what I mean?
Surprisingly, Creamy Butternut Apple Soup has only a touch of sweetness. You can't really taste the apples!
And, hooray – it was a smashing success! When my people go serve themselves seconds, I know they aren't just being polite. Score one for Mama!
Here is an amazing nutritional fact I learned about butternut squash: one cup of butternut squash has 22,869 IU of Vitamin A. That's 457% of the daily recommended allowance! Creamy Butternut Apple Soup is a really easy way to get a few cups of your daily recommended veggies into your diet.
A quick note about turning a chunky soup into a smooth soup: Remember that soup is HOT! The very first time I blended soup I got burned because the soup plopped and glopped when I turned on the blender. Be smarter than me! If you are using a blender or food processor, puree your soup in small batches. I now use an immersion blender for hot items because I am one of those people who is always getting hurt in stupid ways. Know thyself, right?
What do you think about apples in soup? Willing to try?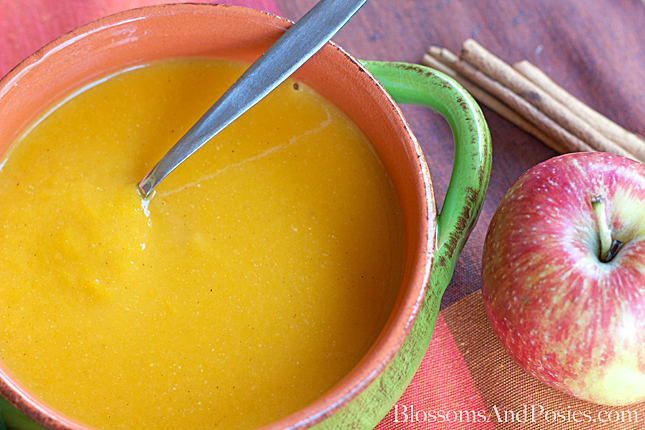 Creamy Butternut Squash Soup
Creamy butternut apple soup is perfect for a chilly day, and a delicious way to get several servings of fruit and veggies! Chock full of Vitamin A too!
Author:
Blossoms and Posies
You'll need…
2½ lbs butternut squash, peeled, seeded and chopped
2 large apples (about ¾ lb) peeled, cored, and quartered
4 cups chicken broth
1 stick cinnamon
½ cup cream
½ cup water
¼ cup butter
¼ teaspoon salt
¼ teaspoon nutmeg
¼ teaspoon ground ginger
Here's what to do…
Pour chicken broth into a large pot.
Add the chopped squash, apples, and the cinnamon stick.
Bring the mixture to a boil.
Reduce heat and simmer until the squash is tender (it will take about 25 minutes.)
Remove the cinnamon stick and blend the soup until smooth (use an immersion blender in the pot, or carefully blend in a blender or food processor in batches.
Return soup to pot (if necessary) then add water, cream, butter, salt, nutmeg and ginger.
Cook on low until soup is hot.