Oooo we have a lot of goodies for you today!
Just one look at this collage for Autumn Bliss, the new ebook from Denise Thompson and Lori Ramsey, and you can see why I was eager to take a peek inside!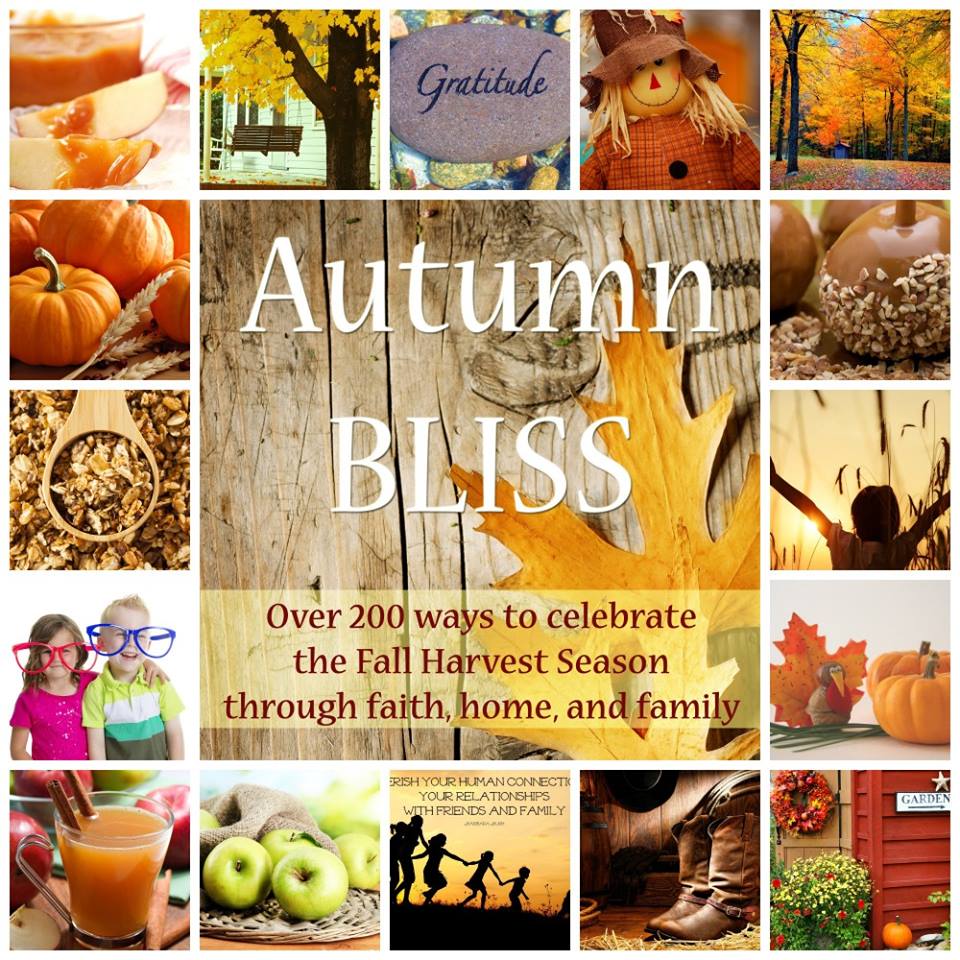 Why a book about autumn? I think the authors sum it up well here:
"As we pull out the turtleneck sweaters and boots once again, we might ask ourselves, "now what?" How do we spend this season in a unique way? What if we could find more meaning to this fall season before we move onto planning and preparing for Christmas? Autumn has even been called the "lost season" as Christmas preparations overshadow the reflection and celebration of Thanksgiving.

You can visit any store today and see Christmas beginning to move in at every turn. This can bring a sense of panic to all of us within in a matter of minutes, but if we are intentional and thoughtful in our approach to this time of year, hopefully we can embrace it with grace and gratitude, and joy in our hearts." Autumn Bliss, p. 7
Autumn Bliss starts out in the right place – with the focus on God. Denise and Lori each share their testimonies of growing in Him… offering a sacrifice of praise, leaning into being thankful, making the habit of "knee time." Then they share scriptures, as well as ways to encourage your children to grow in gratitude.
The home is the next focus, with ideas for decorating, ways to help your home feel more cozy (love the autumn stovetop scents recipes!) even cleaning. Check out our version of their fall cleaning wipes below! Family time, parties, and yummy recipes round out the book's offerings.
Some of the highlights:
Seasonal decorating suggestions
Fall party ideas
Scriptures of thanksgiving
Lots of autumn recipes (pumpkin spice granola… apple butter… cashew caramel corn… yummmm!)
40 fun fall ideas to try with your family and friends (anyone for some flashlight tag or a barn dance?)
What do you think? Sound like something you'd like to take a peek inside too?
Well, happy news: Denise and Lori have offered a free copy to one of you! You know the drill… you can enter in various ways via rafflecopter (below); the giveaway runs from Thursday October 17 through Monday October 21. Hope you win!
Be sure to scroll past the Rafflecopter widget after you enter, to see how to make Orange Wipes!
And now for our version of one of the awesome "recipes" for fall cleaning that you will find in Autumn Bliss! We tweaked the instructions to reflect what we had on hand (because we love to make do with what is around.)
Orange Cleaning Wipes
You will need:
1 plastic container with a lid
an old t-shirt
pinking shears
1 1/2 cups white vinegar (white distilled)
1 1/2 cups water
2 tablespoons of baking soda
2 tablespoons of fragrance and dye free liquid soap (hand or dish soap)
30 drops orange essential oil
Here's what to do:
1) Use pinking shears to cut wipes from the t-shirt in the shape you desire (ideally a shape that fits both your hand and the plastic container.)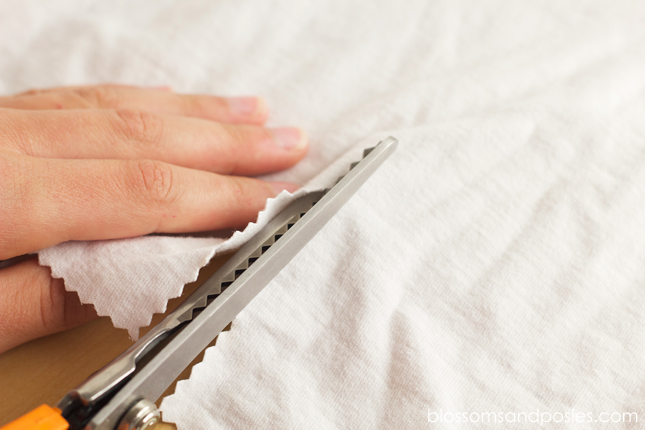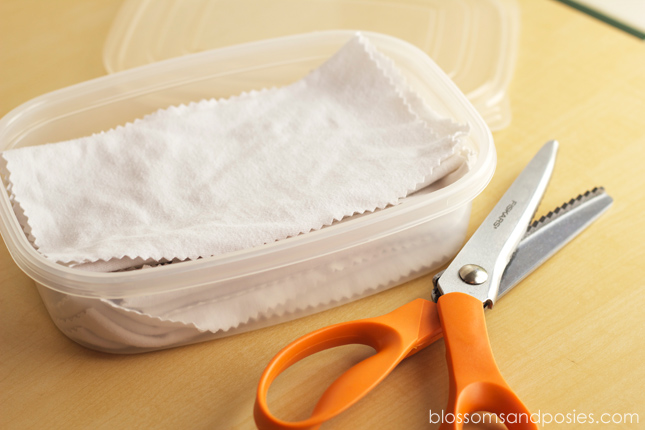 2) Combine the vinegar, water, baking soda, and soap in a bowl and gently mix.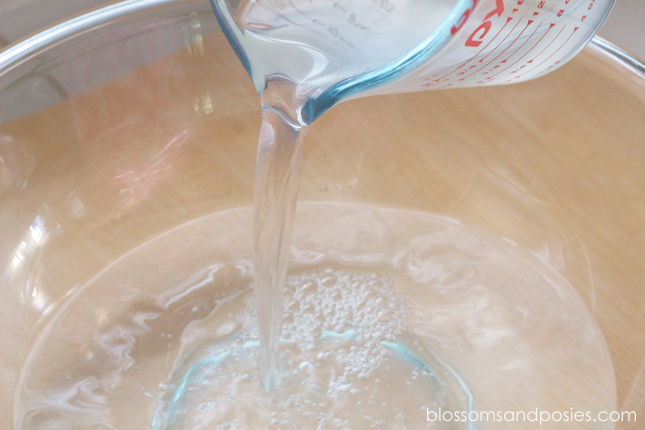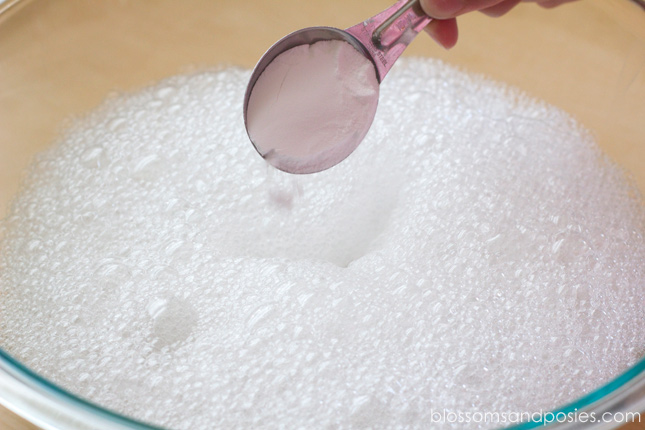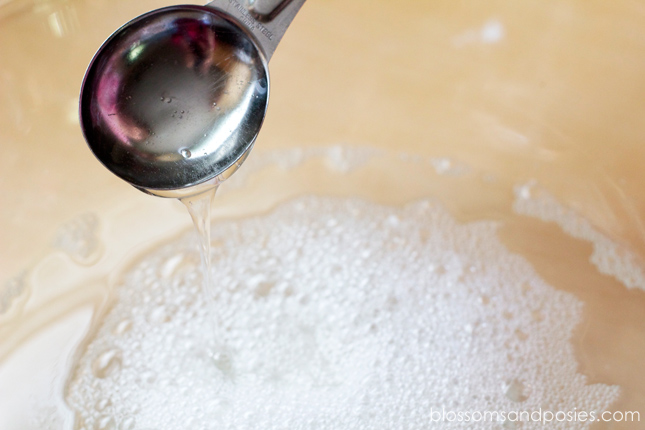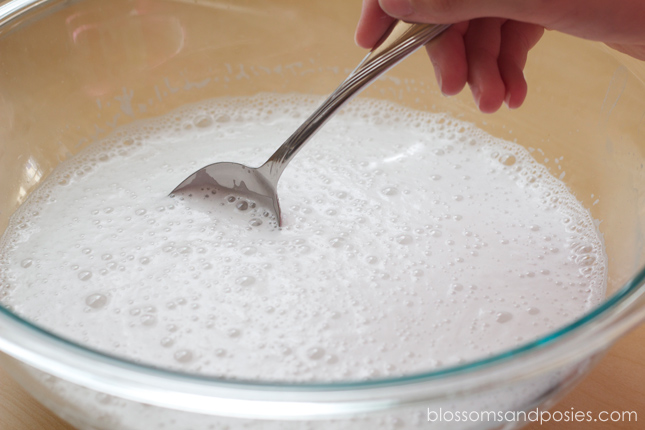 3) Add 30 drops of orange essential oil and mix (doesn't it smell wonderful?)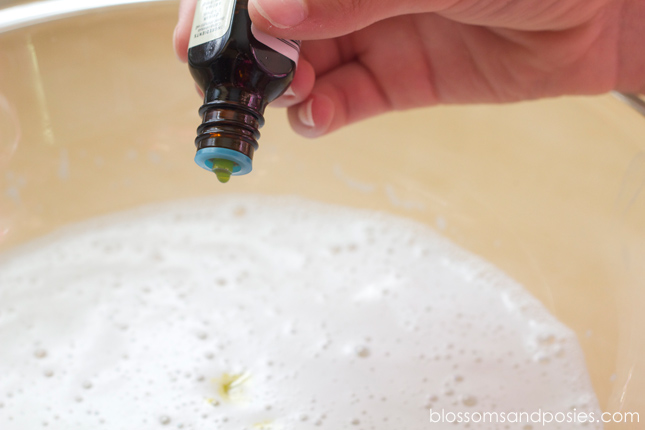 4) Let the mixture sit until it stops fizzing. Look at all these bubbles we had at one point! Baking soda + vinegar = fun kid activity!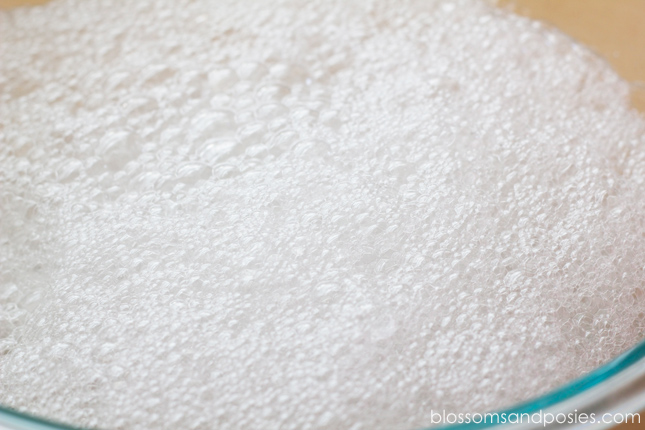 5) Lay the cloths in the bowl of orange solution and press down to make sure each one is completely soaked. Gently squeeze out excess liquid from each cloth and neatly place them in the plastic container, making sure they are good and damp. Close the lid tightly.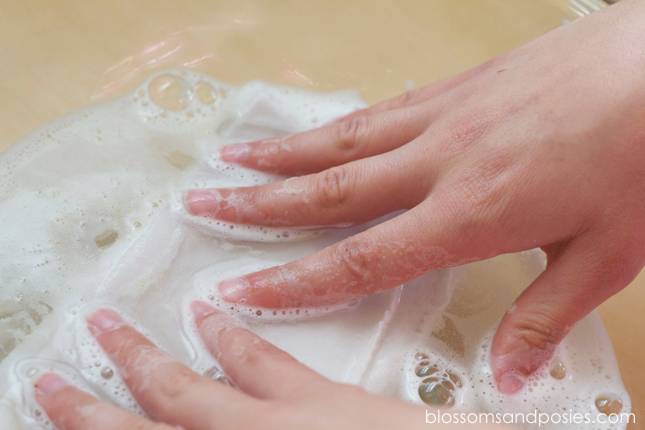 6) Store the cloths at room temperature, pulling out a cloth whenever you need to clean. You can keep leftover liquid in a glass jar and re-wet the cloths if necessary. You can also wash the cloths once they get dirty and start again!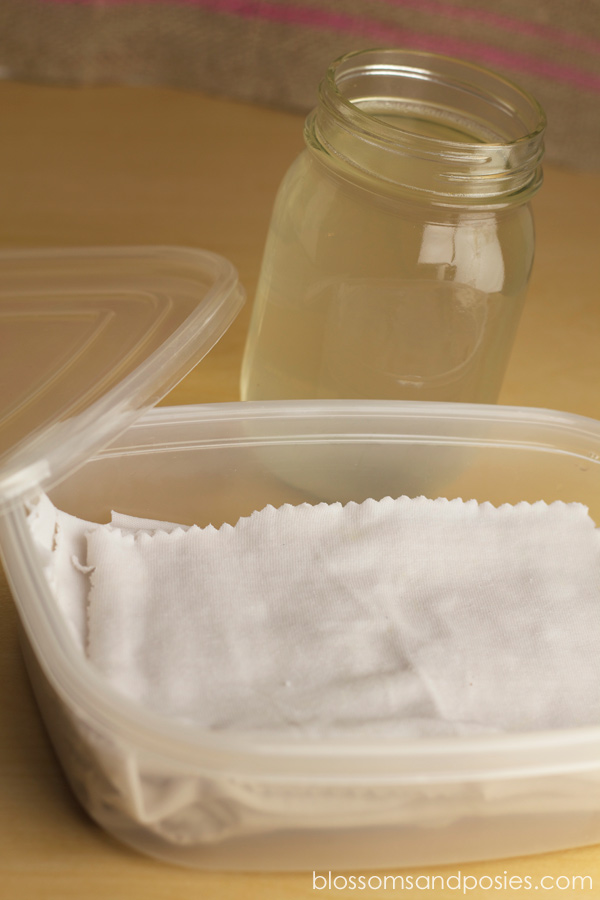 7) Abbie got right to work cleaning the faces of our cupboards. And we were astounded by how well they cut through that icky greasy-dust stuff that accumulates near the oven. They even made cleaning the kitchen blinds easy!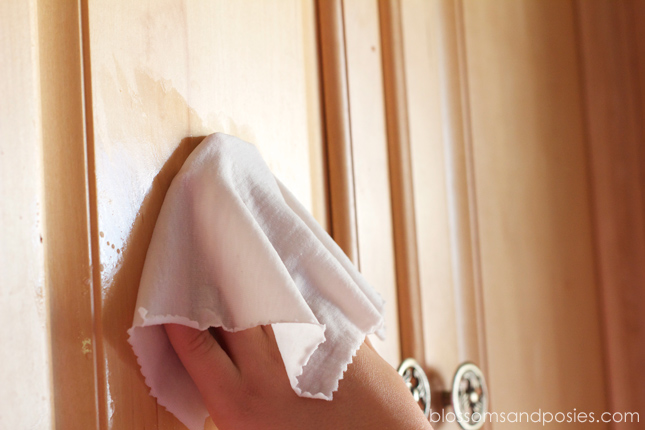 Let us know if you try them. Denise and Lori used utility cloths, you could also use paper towels if you wanted disposable wipes.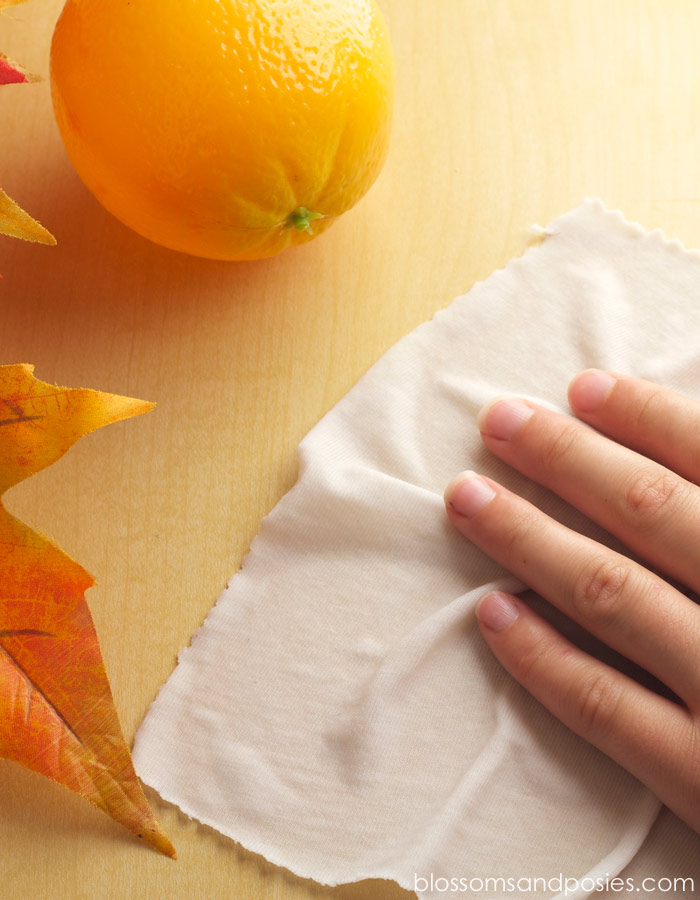 Disclosure: we received one digital copy of Autumn Bliss in exchange for our honest review.